Recently in the UK we were graced with a visit by some gales in a perfect direction to light up the famous West Kirby speed strip. I came online to update the article I wrote about it -
West Kirby - Autumn Gales 2011
. I have been waiting for everyone to post on GPS-speedsurfing.com, now most seem to have posted I could copy the final table of the day for my article. It was then that I saw something I could not quite believe, I will explain soon. Meanwhile weather guru and Ultimate Speed Meeting (USM) coordinator Howard Rowson has written this about the
West Kirby USM by Howard Rowson OPH.
A few days after their visit to the UK, Jacques van der Hout and Hans Kreisel managed an amazing session which made me realise what the Portland Pirates we up against in the GPS Team Challenge. Only last year when I first joined the GPS team challenge my peak speeds were the same as the hour average these two posted, see here -
Grevelingen Chop Team does it again. It really was an amazing session. We were talking at the beach several times about the impact they had at West Kirby and the consistency of their sailing.
So what could I not believe when I saw it?
Look closely at the table. Can you see what it is?
There are an amazing amount of 40knot averages for one spot on one day, but that is not it.
There is a 48.3 knot 2 second peak, but that's not it.
It doesnt say my name at the top, or anywhere on the table, but that's not it
There are a lot of Alphas missing and if you spotted that then you are close.
There is one amazing Alpha (sorry Hans yours is very good as well in those conditions compared to all the others). Jacques managed a 28knot Alpha in what I have heard some hardened British sailors describe as the hardest, strongest, heaviest and best winds they have ever sailed in.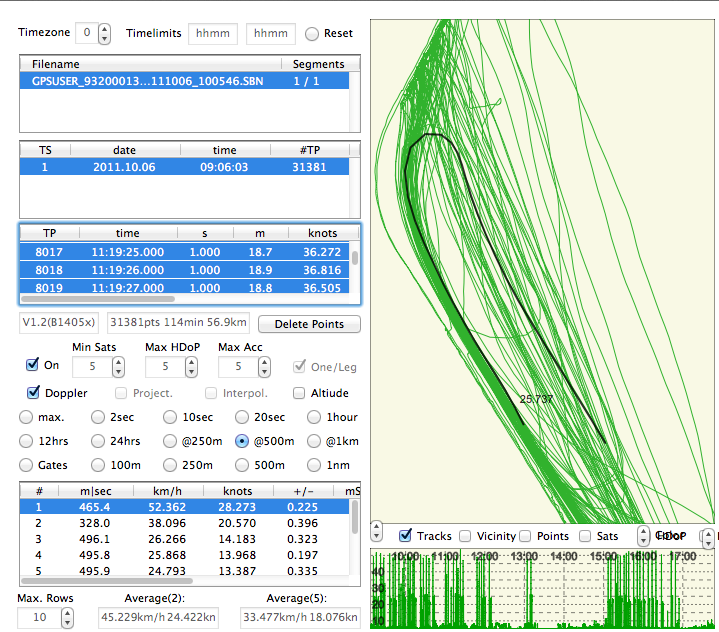 This is what Jacques had to say on the GPS Team Challenge session post 'forum'



Did only one attempt for the team. When almost everybody was on the beach waiting for the wind to increase i was sailing upwind and nobody was starting a run.




Managed to start with 25 knots sailing upwind the wall and in the corner i accelerate up to 34 knots in the gybe, the way back was downwind and speeds where 36 knots, this was good enough for an @500 average of 28,27 knots. As you can see there are many ways to get a nice alpha average.
34 Knots in the Gybe, that is near my peak! I feel partly ashamed and partly in awe.
This day and the performance is extreme, but any session by any speedsurfers that go out in such hardcore conditions deserve more recognition. It is this which I hope to achieve through both Eriks Speedsurfingblog and my Redsurfbus.com website. Please help us on both sites by getting in touch with articles about your local or national records that we may miss or not know about. We are all doing this in our spare time and there is only so much we can do. Or if you are very rich and have too much money you could pay us to report this full time ;-)
Good speeds and winds, 'The Bus'